2021 - Royal visit to cathedral, 19 July
The cathedral was visited by Prince Charles and the Duchess of Cornwall on the morning of Monday 19th July, 2021. It formed the start of a three-day vist to the South-West.
The choir sang one anthem, Hadley's My Beloved Spake, from in front of the organ screen, at the start of the royal visit to the cathedral.
This was the first day that Covd-19 restrictions had been lifted, so the choir was able to have all the girl and boy choristers present, and with all the singers in their usual close positions. The choir was arranged as Dec and Can, on either side of the Golden Gates, as can be seen in the photographs.
The royal procession moves from the nave to the quire, after the anthem had been sung. At this point, Prince Charles is greeting Timothy Noon, Director of Music, who was off camera to the right. The Dean stands in front of the Prince.
Their Royal Highnesses talking to Decani choristers. The Bishop of Exeter stands to the right.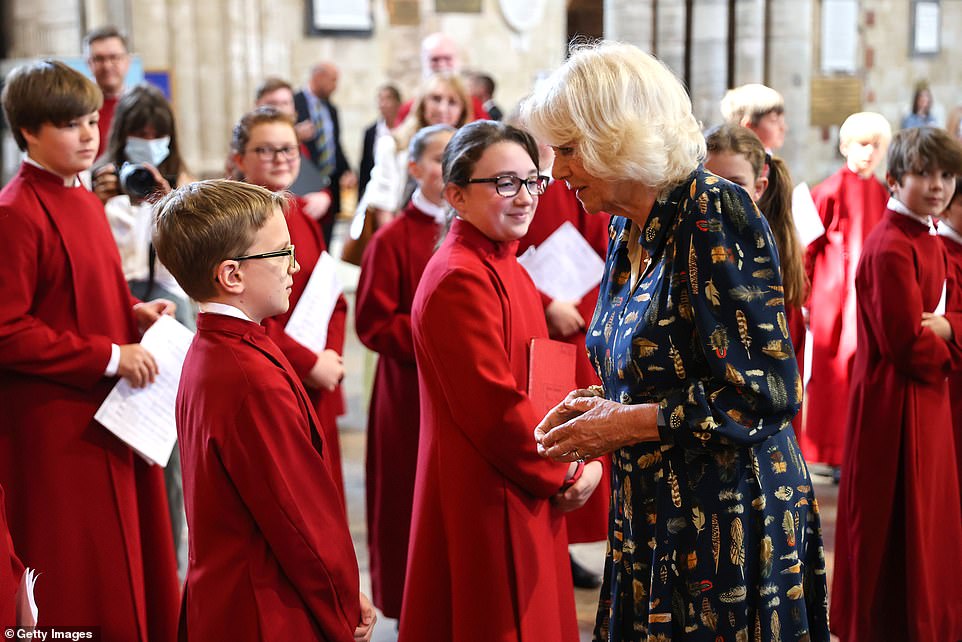 Decani choristers being talked to.
Decani choristers being talked to. The Precentor, Rev Canon James Mustard, stands to the right.
Cantoris choristers being talked to.
The Prince and Duchess leaving the cathedral. The choristers and some army cadets formed a guard of honour.
Decani choristers about to be talked to outside the cathedral.
The Prince looking at a copy of the latest edition of the Guide to Exeter Cathedral, which had just been presented to him by William, a probationer.
James made a speech to their Royal Highnesses and presented them with a copy of his novel, set in the cathedral.
The Duchess of Cornwall was presented with flowers by Rose, a probationer
Valedictory had already been sung with the choir term ending on Wednesday 7th July, so the choir returned from their summer break to sing at this event.
David Davis, a former assistant Director of Music, played the organ; Timothy Parsons had left at Easter to take up his new post as organist at Bury St Edmunds, and James McVinnie, who had played during the summer term, ended his time at Exeter at Valedictory.
Photo sources: The Daily Mail published photos 1, 2, 3, 7, 9, 10, 11; Exeter Cathedral published 4; Devon Live published photos 5, 6, 8.